When it comes to replacing or repairing your home's roof, there's more to the process than simply selecting the right materials and finding a reputable roofing contractor. One crucial aspect of roofing projects that often gets overlooked is the permit process. Homeowners in Egg Harbor Township, NJ, need to understand the ins and outs of obtaining roofing permits to ensure a smooth and legally compliant project. In this article, we'll demystify the roofing permit process, shedding light on what homeowners need to know.
Surf & Turf Roofing: Your Trusted Roofing Contractor
Before delving into the permit process, it's important to mention that Surf & Turf Roofing has been the roofing contractor of choice for homeowners in Egg Harbor Township and beyond since 2012. With a proven track record of quality workmanship and exceptional customer service, Surf & Turf Roofing is your partner in achieving a durable and beautiful roof.
Understanding Roofing Permits
A roofing permit is a legal requirement that homeowners must obtain before initiating any significant roofing project. The permit serves several essential purposes:
Safety: Roofing permits ensure that the work complies with local building codes and safety regulations. This helps prevent accidents and structural failures.
Quality Assurance: Permit authorities often inspect the roofing work at different stages to ensure it meets quality standards. This helps guarantee that your roof will protect your home effectively.
Legal Compliance: Failing to obtain the necessary permits can lead to fines, project delays, or even forced removal of the new roof. It's essential to follow the rules.
The Roofing Permit Process
Here's a step-by-step guide to help you navigate the roofing permit process:
Research Local Regulations: Start by contacting your local building department or visiting their website to learn about the specific requirements and regulations for roofing projects in Egg Harbor Township, NJ.
Hire a Licensed Contractor: Ensure that your roofing contractor is licensed and experienced in obtaining permits. Reputable contractors, like Surf & Turf Roofing, can often handle this process for you.
Submit an Application: Complete the necessary permit application, which typically includes details about the project, such as the type of roofing material, dimensions, and scope of work. Pay the required application fee.
Review and Approval: The building department will review your application to ensure it complies with local codes and regulations. This process can take a few weeks, so plan accordingly.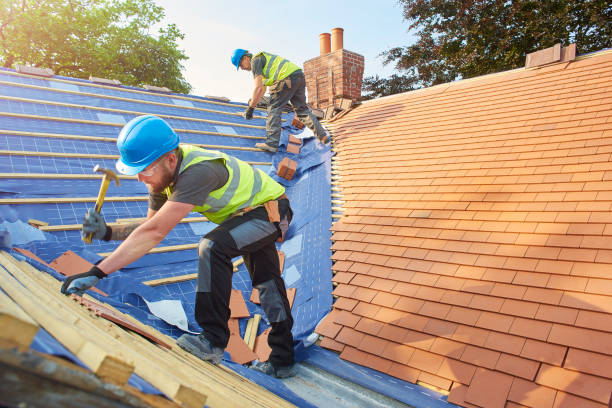 Inspections: During the roofing project, expect inspections at various stages, such as after tear-off, before installing new materials, and upon completion. These inspections ensure compliance with safety and quality standards.
Final Approval: Once the roofing work is complete and passes all inspections, you will receive a final approval certificate. Keep this documentation for your records.
Completion and Cleanup: With your permit secured, Surf & Turf Roofing will complete your roofing project with the assurance that it meets all legal and safety requirements.
Conclusion
The roofing permit process may seem daunting at first, but with the right knowledge and a trusted roofing contractor like Surf & Turf Roofing by your side, it becomes a manageable and necessary part of your project. Ensuring that you follow all local regulations and obtain the required permits will not only keep your project on track but also provide peace of mind that your new roof is safe and built to last.
For all your roofing needs in Egg Harbor Township, NJ, trust Surf & Turf Roofing, your local experts. Contact us today to discuss your roofing project or to learn more about our services and see examples of our completed projects. Your dream roof is just a click away!